We at Survival Food take a very hands-on approach to emergency preparedness, allowing us to try A LOT of freeze dried food. We taste every brand before we sell it and if it's not something we'd want to eat in an emergency, it doesn't go on the shelf. When it comes to brands that have the integrity, shelf life, and flavour we're looking for, nothing beats out Legacy Food. Have we piqued your interest? Good! Here's how Legacy won its place as our favourite long-term food storage option:
Integrity
Legacy Premium is one of the most upstanding brands we've had the pleasure to carry. They care about what goes in their food and that its something anyone could survive on in an emergency. Unlike many brands – even in the grocery store – you can look at most Legacy Food ingredient lists and pronounce what's inside.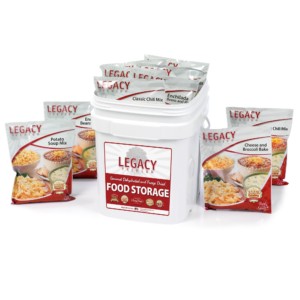 Serving sizes are a non-standardized area of food storage, which can lead to cost-cutting calorie loss. There have even been lawsuits brought foreward against brands that make dangerous claims about how long their food will sustain a person, while putting half the required food energy into their meals. Not with Legacy!
Legacy Premium understands that every persons food storage requirements are different and encourages its customers to do their own research into how many calories they'll need. They make no claims about how long each of their food kits will last. They DO however let customers know how many 2,000 calorie days each will last – using a strong average to give people an idea of what to expect. For the record, many other brands use just 1,200 calories as their benchmark – the bare minimum for survival.
Shelf Life
Nobody likes the waste, work, or money involved in replacing expired supplies from a kit. That's why Legacy worked hard to give all their freeze dried food meals a 25 year shelf life! Using industry leading techniques, top of the line packaging, and expertise earned from many years of industry experience.
Each delicious pre-made meal is freeze-dried to remove all of the moisture from inside. They are then packaged inside of food-grade mylar pouches with an oxygen absorber, and flushed with nitrogen to guarantee that absolutely no damaging oxygen remains inside. Moisture and oxygen are the two main factors that cause damage to objects over time.
Flavour
Legacy meals come in 4 breakfast and 15 entrée menus. It often wins blind taste tests against competing brands and has been called 'gourmet' by many in the industry. They're tasty enough to take camping, or even for days when going to the grocery store is too much work.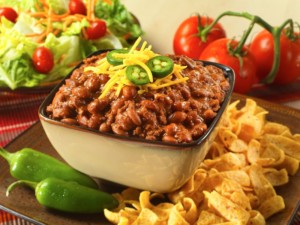 To allow as many people as possible to enjoy their food, Legacy Premium makes all of their meals vegetarian (you can add meat). There's no added MSG, and all their ingredients are non-GMO. If that wasn't already wonderful, they also make meals that are gluten free, and a handful that do not contain dairy (there's still sodium caseinate and soy in most of them though – sorry!)
Summary
If you're looking for the best solution in freeze-dried food, you've found it. With a 25 year shelf life, responsibly made meals, and a genuine desire to design what is best for their customers, Legacy blows the competition out of the water. Just boil up a little water, add a pouch of freeze dried food, and voila! A meal so easy even I could cook it.
Thank you for reading.
This article was written by Zenia Platten – Author of Tethered and emergency preparedness professional.