Description
When you stop to consider how much food comes in the Premium 4320 Serving Package by Legacy it is obvious that this is the ultimate in survival food preparedness and long-term insurance food. This package provides 3 hearty servings per day for 4 people for one full year. Purchasing a package of this size leaves no question that you are prepared. This provides an additional benefit of knowing that you may never need to buy emergency food for your family again. With the lowest cost per serving available online and that much food, you can consider yourself ready for whatever challenges come your way in the most economical way.
Package Features
Average of 400 calories per serving
3 servings per day for 4 people for one year
3 simple to prepare meals per day; one for breakfast, lunch, and dinner
4 different breakfast options and 19 lunch/dinner entrées to choose from
100% Certified GMO Free
25 year shelf life
Made in the USA
Lowest cost per serving and calorie in the food storage industry
Meals have no Trans Fats or Cholesterol, no added MSG, are Low in Sodium, are Vegetarian Friendly and are a Good Source of Fiber
Gluten Free options available
Meals come packaged in 4-serving Mylar pouches with an Oxygen Absorber and a Nitrogen Flush
Mylar pouches stored in stackable, heavy-duty, BPA-free plastic buckets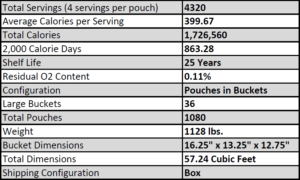 Click on Meal Name for Nutritional Information
Included Breakfasts:
Included Entrées:
Meal selection may vary.